We thank you for choosing PenTeleData Accelerator Internet Access. These instructions will guide you through the setup of PenTeleData Accelerator on your Windows PC. Before beginning with these instructions, close all programs that may be open. If you have a Windows 2000, XP, Vista or Windows 7 machine, please note that you MUST be logged onto your computer with Administrative rights to complete these instructions. Also, if you are using any type of firewall software, you must answer "YES" to ANY questions which ask if you would like to allow the PenTeleData Accelerator application to access the Internet.
View an introduction to all the features of PenTeleData Accelerated Internet Access in a Frequently Asked Questions (FAQ) format. For anyone who is interested in taking full advantage of their PenTeleData Accelerator, this is the beginners guide for you.
In the event that you have a question or trouble in setting up the accelerator, please call our Technical Support Department at (800) 281-3564, and follow the menu to get to Residential Technical Support.
Let's Begin:
1. Double-click on the "accelleratedsetup.exe" icon. If you have any open browsers you will be prompted to close them. Once any open web browsers are closed, click "OK".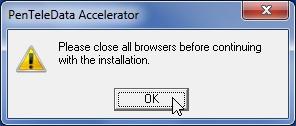 Note: If you are using Windows 7, you will be prompted with the following security alert, also, known as the "User Access Control". Click "Yes" to continue.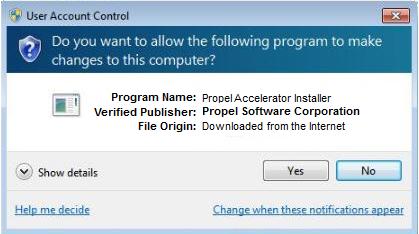 2. The "PenTeleData Accelerator Setup: Welcome" dialogue will now appear, click "Next" to continue.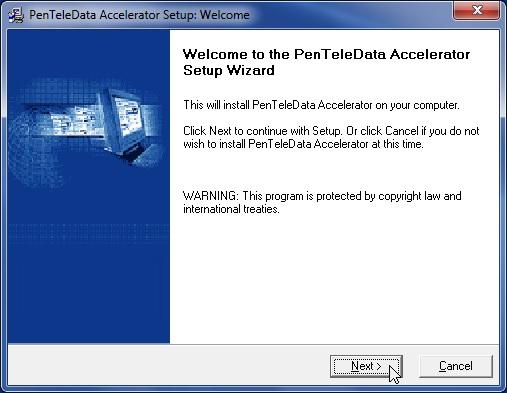 3. Please read the Software License Agreement and click "Accept" to proceed.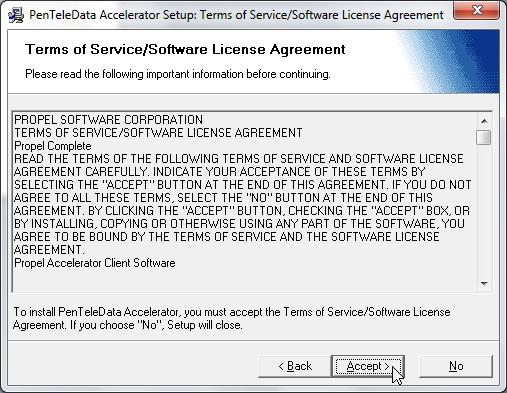 4. This step prompts you to select the directory where the program will be installed, as well as the "Startup menu folder" where the program shortcut will be created. Unless you wish to change these options, simply click "Next" to proceed to the next step.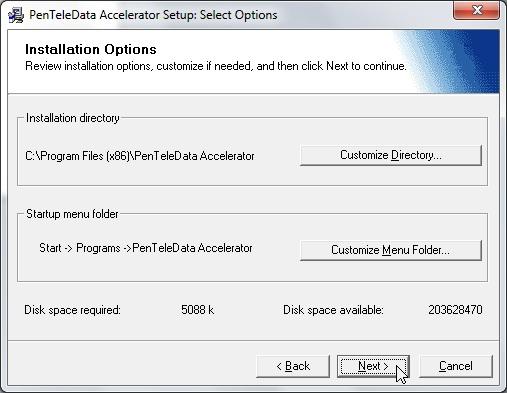 5. The installer will now copy the necessary files to your PC. When the progress indicator reaches 100%, you will automatically be taken to the next step.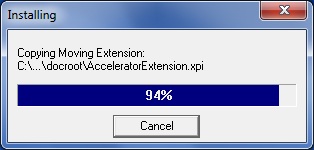 6. PenTeleData Accelerator is now installed on your PC. Before you begin you must restart your computer, click "Restart Now."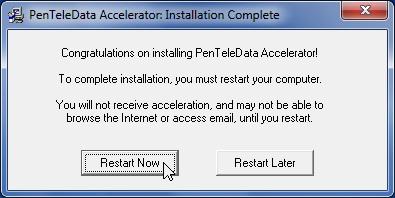 7. If your PC comes up with another window stating that the system needs to be restarted press the "OK" button to begin the restart.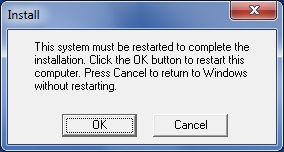 8. Before you can begin using the PenTeleData Accelerator, you must first enter the appropriate login information. In the "Username:" field, enter your Full Access PenTeleData username. Enter the corresponding password for this username in the "Password:" field. It is also recommended that you place a check mark in the "Save password (recommended)" box. After entering the required information, click "OK" to connect to the PenTeleData Accelerator Internet server.
Note: User names and passwords are case sensitive. Please be certain that your capitalization is correct.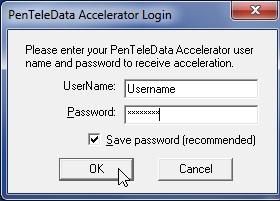 9. Congratulations! You have now completed the installation of PenTeleData Accelerator.